Georgia O'Keeffe is recognized as one of the great American artists of the 20th century and one of the most compelling. She found artistic inspiration in the rural Southwest and eventually settled in New Mexico, a place that she called her dearly loved "faraway."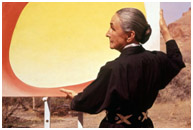 Using a synthesis of the abstract and the representational, especially in boldly colored still-life and haunting landscapes, she was an American original.

She died in 1986 in her beloved New Mexico, at the age of 98.
This is my tribute to Georgia, who, like Kokopelli, became an uninhibited and magical icon of the American Southwest.